TECPRO has created a revolutionary system of low-wall protection designed to improve security around the track, for drivers and staff.
The TECPRO system is International Patented and FIA approved, The barriers are made of polyethylene contact-wall, hollow on the inside, connected blocks connected together by double nylon straps.
The TECPRO low-walls can be shaped perfectly to any curves and turns of race tracks and are available in many color.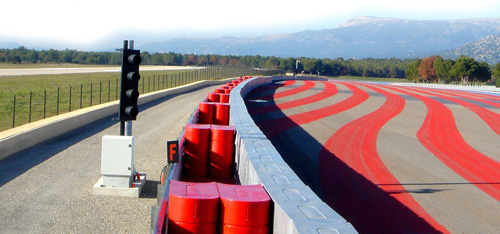 Advantages;
Safety
Absorbs shocks
Minimizes equipment breakage and impact on drivers
Cancels a boomerang effect
Obtains an anti-embedded effect
Obtains an anti-slow down effect
Our efficiency and seriousness is recognized by the international federations and by the CIK FIA (Motorcar International Federation)
Profitability
Space advantage
Compared to other systems (tyres, bunch of straws, plastic tubes…) the TecPro system is the less voluminous (50 %)
Saving time
A 1/3-of-a-mile rave track can be reset by one operator in 15 minutes, whereas 2 hours are necesary with another system.
A 1/3-of-a-mile race track can be equiped by 4 operators in two days ; as a comparison the other systems demand several weeks.
Mobility
One 1/3-of-a-mile race track can be reshaped entirely in one day by 4 people ; thus you have the possibility to offers easily a brand new track to your customers.
Esthetics and a fantastic advertising medium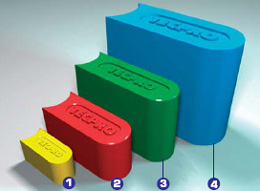 Dimensions
Low-walls dimensions in cm (length x height x width):
2) 100 x 50 x 40
3) 120 x 80 x 40
4) 150 x 120 x 60 (F1)